Cornwall Public Library
---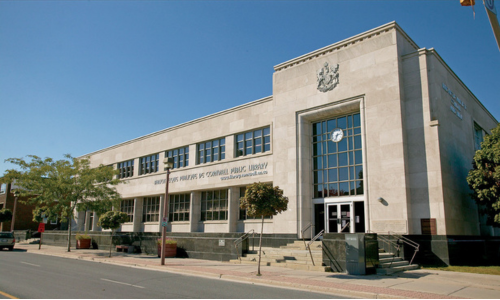 Cornwall has an impressive public Library with an extensive collection of English and French books, magazines, audio, and video materials for research and leisure use. It also has a growing multicultural book collection. The Library offers general interest and educational programs enriching minds, connecting people to ideas and inspiration, inspiring early readers, and providing access to technology in an environment that welcomes and is accessible to all Cornwall residents- from new immigrants to established Canadians of all ages.
You will meet a dedicated public services staff eager to help you find the materials you need and answer questions on a variety of matters. Free access to subscription databases for research and leisure purposes is available on the website.
The Library which is centrally located in Downtown Cornwall offers free Internet access to everyone. It is fully wheelchair accessible with a bus stop at its front doorstep and a municipal parking lot adjacent to the building.
Other library services include:
A fully accessible Library building with ZoomText computer workstations, a CCTV reader, large print books, and recorded books on tape and CD.
Interlibrary Loan Service to obtain books from other libraries.
Microfilm readers with printer.
Public photocopiers, faxing, and printing.
Community Information bulletin boards and display cases.
Meeting rooms available for a reasonable cost.
Free Library Mobile App: Available on Apple Store and Google Play Store
Contact:
Address: 45 Second Street East, Cornwall, ON
Tel. 613-932-4796 / FAX: 613-932-2715
Email: generalmail@cornwall.library.on.ca
Website: library.cornwall.on.ca
Note: The Library is open Monday to Thursday from 9:30 a.m. – 8:30 p.m. Friday and Saturday 9:30 a.m. – 5 p.m.
CORNWALL PUBLIC LIBRARY – A PLACE FOR EVERYONE