Transportation
---
Cornwall is a very easy and safe city to get around in. The city has a well designed network of streets, sidewalks and recreational paths.
Using a Car
Many residents choose to use a car to get from their house to work, school and elsewhere. You will need a valid Driver's Licence in order to operate a car.
Taking the Bus
Cornwall has a very efficient public transportation system called Cornwall Transit. In order to take the bus you must purchase a ticket or a transit pass. Cornwall Transit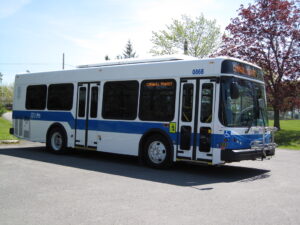 Taking a Taxi
Cornwall has a number of companies that offer taxi service. Taxis have meters that calculate the cost of your trip. The longer the trip, the more expensive the fare. If you want to know how much your trip will cost, ask the driver before the trip starts. Many drivers will also hope for a tip, especially if they help you with lots of bags. Taxis can be expensive, so most people only use them when they do not have another option.
Choice Taxi : (613) 938 8899
Tip Top : (613) 932 2727
Veteran's Blue Line : (613) 932 7311
Active Transportation Options
Walking and cycling are healthy and cheap ways of getting around Cornwall. Cornwall has a comprehensive network of approximately 40 kilometres of recreational paths that allow people to walk, bike and rollerblade along the St. Lawrence River and throughout the City.
Travelling Outside of Cornwall
Cornwall is conveniently located near Ottawa and Montreal, making it easier to visit other cities and towns.  You have the options of travelling by car, bus, rail or even air.